Skip to content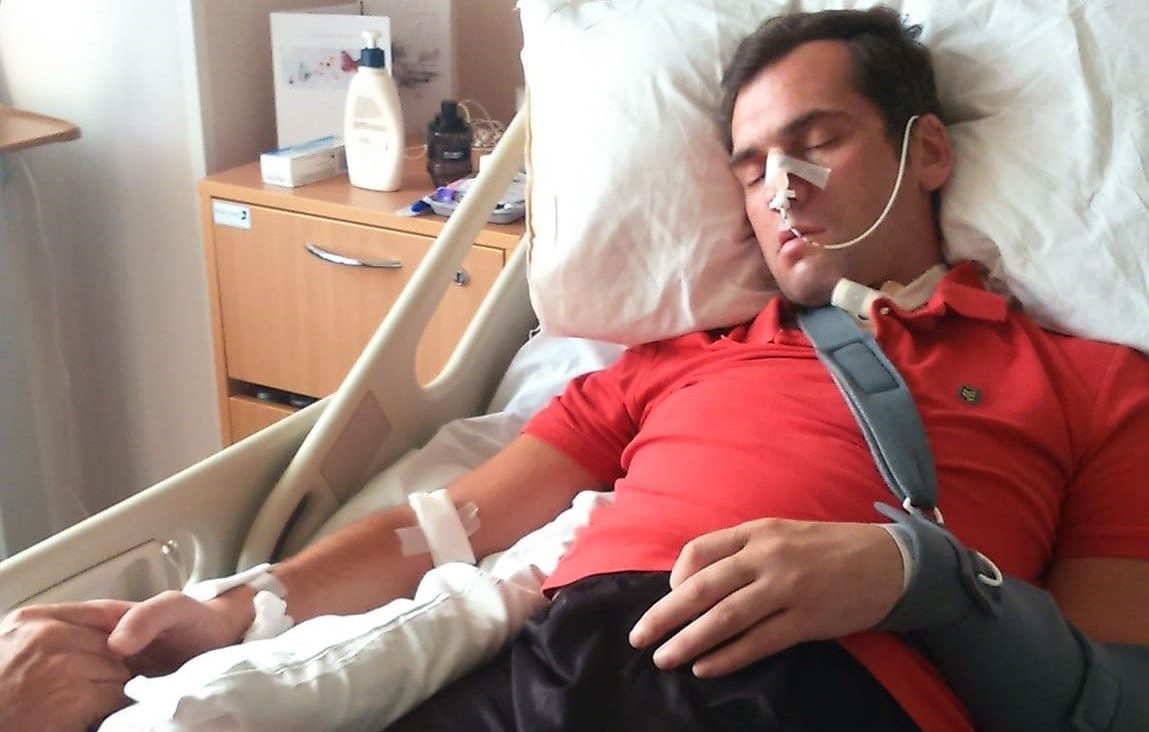 Former football manager Kris Jones says he owes his life to LNAA after he was airlifted from the A1 following a head-on collision with a lorry in which he suffered a traumatic brain injury.
The dad-of-three was in a coma for three months. His family were told he wouldn't survive but he can now walk, talk and has a future to share with his children.
On 4th August 2014, Kris was travelling home after a hard day's work. Football was his passion and he was looking forward to a meeting at Sleaford Town Football Club. His next memory was waking up in Lincoln County hospital with his family at his bedside. It was Christmas and four months had passed.
Kris had to be told what happened. "I was on the A1, driving home and all I can imagine is that I must have fallen asleep at the wheel because I hit a stationary lorry head-on at 70 miles per hour."
Lincs Fire & Rescue cut Kris out of the car and paramedics from East Midlands Ambulance Service initially treated him at the scene. His injuries were so extensive that Lincs & Notts Air Ambulance were called. The doctor and paramedic team stabilised Kris and due to the severity of his injuries, he was taken by helicopter to Nottingham's Queen's Medical Centre, a journey that took six minutes by air rather than 40 minutes by road ambulance.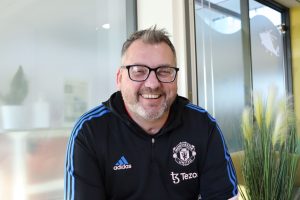 LNAA Dr Isla Wormald said: "In critically head injured patients such as Kris, we would administer medication to arrest potential bleeding within the skull. Pre-hospital anaesthetic would be given to provide protection to the airway and brain, and a ventilator would mechanically breathe for the patient during transportation to a Major Trauma Centre."
Kris regained consciousness and started the long process of rehabilitation. He recalls: "I couldn't walk or talk, everything seemed as if I was in a drunken haze." He remembers the first time he laughed. "My son was pulling my trousers up over my shoes. I had an awkward feeling in my hamstring and as he pulled my leg forward, my muscle spasmed and my toes popped up catching him on his chin. He started laughing, and I started laughing. It was a weird sound and caused quite a commotion in the hospital!"
After 11 months Kris left hospital. "Walking again was never going to be easy and it took two years before I was able to get out of my wheelchair and take some steps."
Eight years later, Kris lives in an annexe beside his parents' home and has three personal assistants who help with his daily routine. Walking and speech are both improving but he suffers with bad double vision, fatigue, and struggles with his dexterity. Perhaps it is his infectious sense of humour which helps him get through each day. As he says: "I cannot tie my own shoelaces but why would I need to do that when my carer can do that for me!
I get up, go to the gym and support football. An old friend now manages Sleaford AFC and I still support them. Football was my life and I liked nothing more than to have a kick about with my sons. My daughter has started to play the game and one day maybe I can go and watch her play.
Kris has visited LNAA HQ to thank crew for the incredible life-saving work that they do.  "He explains: "I could easily have not been here. They saved my life that day. The gratitude I have for them will be with me for the rest of my days. Kris also volunteers for LNAA, sharing his inspirational story at corporate events and encouraging others to support LNAA.
Kris still has a long way to go but he has proved that if he sets his mind to do something he will do it. "I appreciate that I won't achieve the standard of lifestyle I had before the accident but I have got time to put in the best I can as my children grow up. And I still have the potential to walk my daughter down the aisle."