Our crew
Our clinical crew offer an enhanced level of pre-hospital critical care, including advanced life-saving interventions, more effective drugs and enhanced pain relief; all of which are usually only found in a hospital environment.
Our doctor and paramedic crew is a specially selected team that brings a diverse range of experience, expertise and skills. We are proud to have some of the most talented clinicians in the industry working with us.
Our clinical crew work closely with our team of highly experienced pilots and co-pilots who ensure they are delivered to the scene as safely and quickly as possible.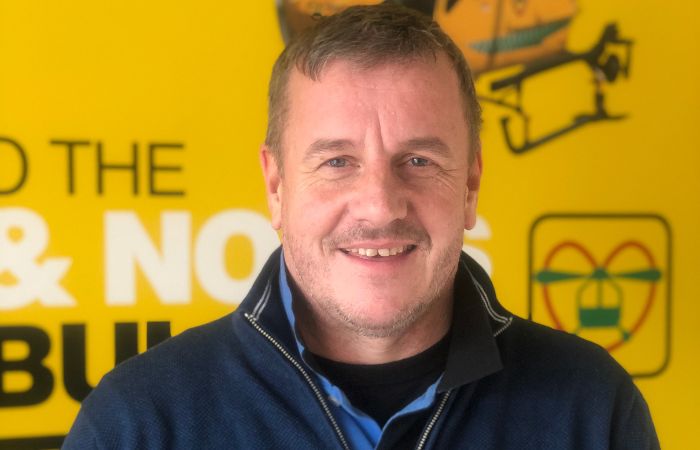 Gareth Davies
Medical Director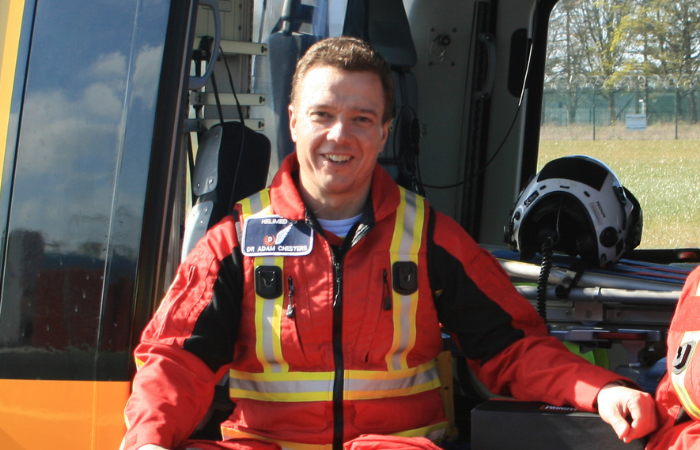 Dr Adam Chesters
Deputy Medical Director
Consultant in emergency medicine and prehospital emergency medicine with over 15 years experience in HEMS. He has worked on every helicopter type in use in HEMS operations in the UK. Honoured to be part of such a high performing and brilliant team at Lincs & Notts Air Ambulance. Often found on a cold touchline watching grass roots football, occasionally refereeing, and reluctantly running to stay fit.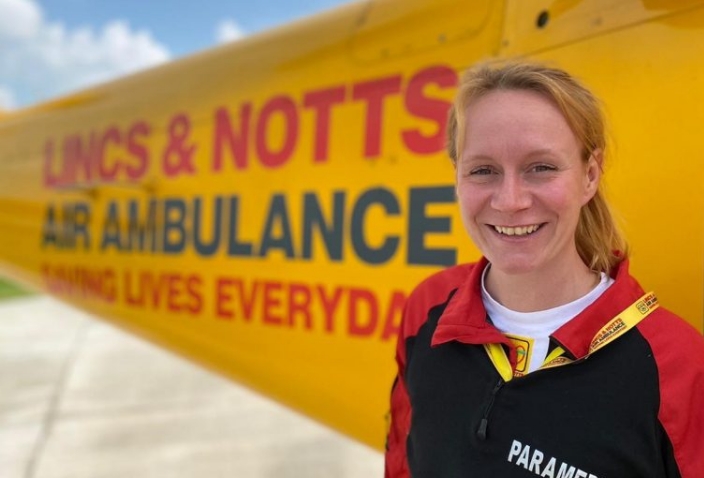 Erica Ley
Senior HEMS Paramedic & Registered Manager
Erica qualified as a Paramedic in 2007 and has worked in both the UK and abroad in emergency, sport academic and military settings working within NHS, private and third sector organisations.  She is the clinical lead for paramedics and the CQC Registered Manager for LNAA. She has co-authored numerous books and publications and is the regional lead for the Faculty of Prehospital Care.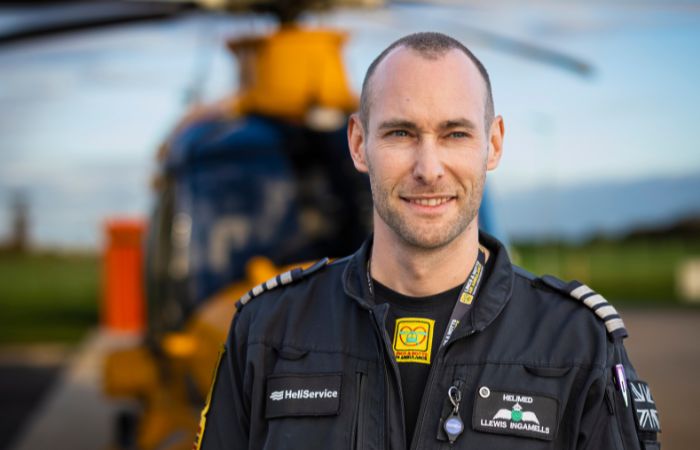 Cpt Llewis Ingamells
Chief Pilot
Born in Boston, Lincolnshire, Llewis learnt to fly helicopters over 10 years ago. His early career saw him instructing and flying general charter before moving on to utility flying and more recently a qualified Police Pilot. Llewis has worked all over the UK, flown in Europe and also holds a Canadian licence. He has flown with us since 2017.
He has a passion for Japanese cars and enjoys spending time with family and friends.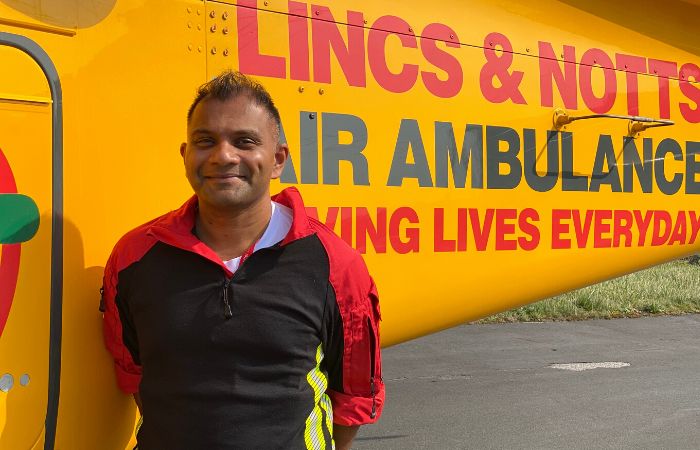 Professor Anil Hormis
Consultant
Brought up in Nottinghamshire, Anil now lives in Sheffield. He has been working in Pre-hospital Emergency Medicine for over 20 years. He has a strong background in training, education and research in Anaesthesia, Critical Care Medicine and Major Trauma. He has flown with us since 2019.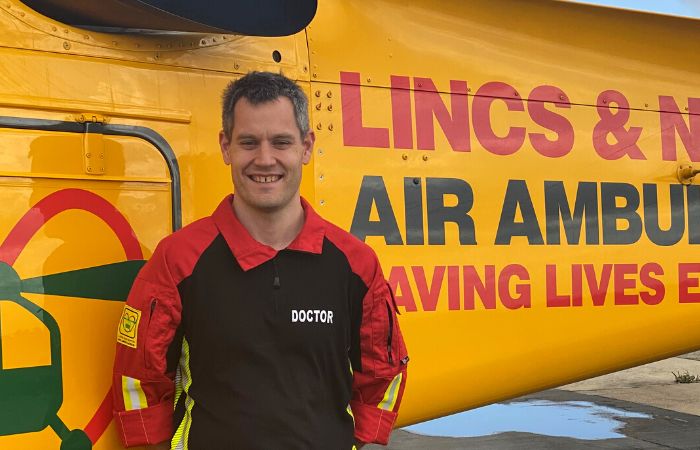 Dr Chris Gough
Consultant & Caldicott Guardian
Chris is a consultant in Emergency Medicine at Queen's Medical Centre, Nottingham, and splits his job between LNAA and QMC. He also works as part of the research team in the Department for Research and Education in Emergency medicine, Acute medicine and Major Trauma at Nottingham University Hospitals. He has been with LNAA since 2016.
He lives in Cotgrave with his wife and daughters, and fills his time away from work with walking, reading and being an avid follower of Formula 1 (and being a taxi service for various after-school clubs).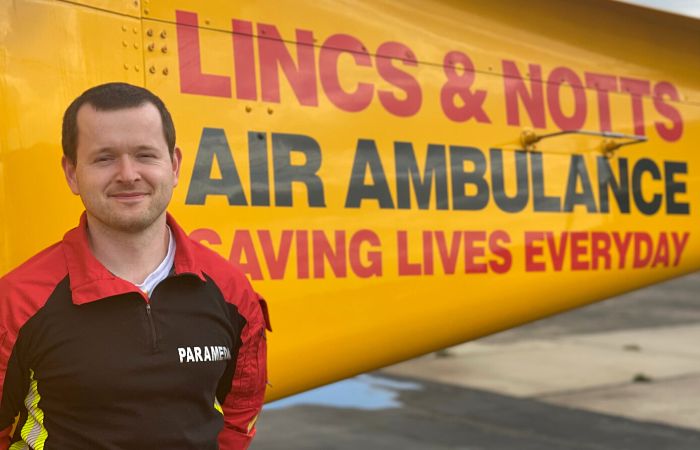 Alex Walker
HEMS Paramedic
Alex is one of our HEMS paramedics, as well as being the designated safeguarding professional here at LNAA.  He has been a part of the LNAA team since 2019, before which he worked as a paramedic for the London Ambulance Service.  Alex is currently studying towards a Master's degree in advanced clinical practice at St. George's University.
During his down time Alex loves cookery, carpentry and spending time with his young family.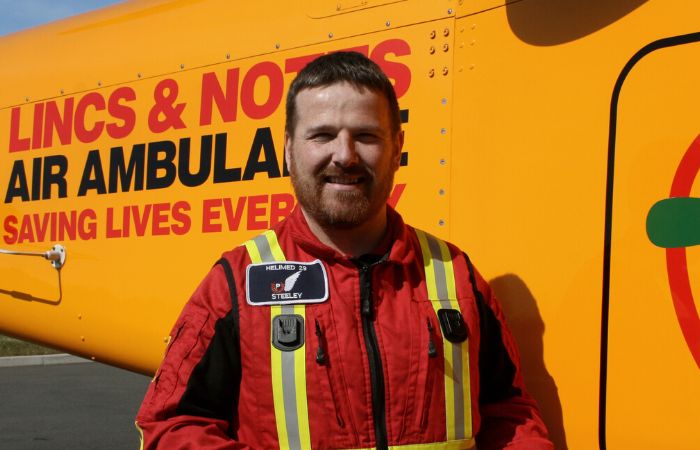 Chris Steele
HEMS Paramedic / EMC Chair
Originally from Mansfield and now living in Norfolk. I served for 8 years in the Royal Army Medical Corps as a Combat Medical Technician which saw me complete multiple tours in Iraq and Afghanistan as well as Humanitarian aid missions in Africa and Central America. I qualified as a Paramedic in 2015 before completing my lifelong ambition of joining the Lincs & Notts Air Ambulance in 2019 as a HEMS Paramedic.
I live at home with my wife, 3 children, and 3 sausage dogs. In my spare time if I have any I referee football to a semi-professional standard and ride my motorbike.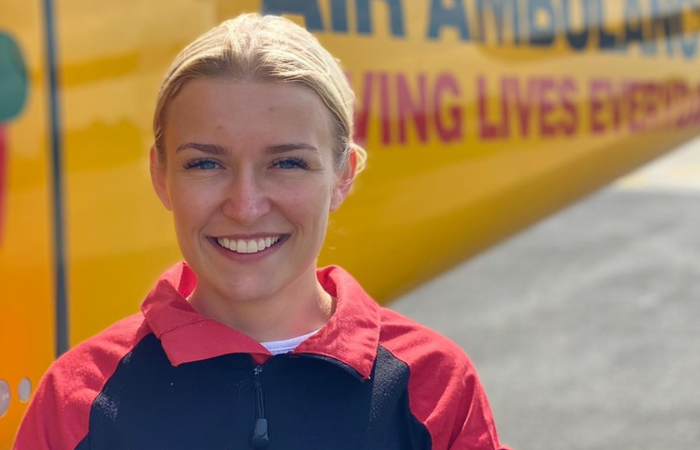 Danielle Gray
HEMS Paramedic
Danielle's dream of working as a HEMS Paramedic began at the age of 15. She qualified as a Paramedic in 2013 and has since gained prehospital operational experience working for London and East of England Ambulance Services and achieved further educational qualifications. She has previous experience as a Paramedic Clinical Tutor, helping to develop students in their Paramedic careers and as a Paramedic Practitioner within an urgent care setting. Danielle joined LNAA as a HEMS Paramedic in May 2021 and forms part of the Research and Audit Committee. Outside of work, Danielle volunteers as an Anaesthesia, Trauma and Critical Care (ATACC) faculty instructor and has a keen interest in fitness.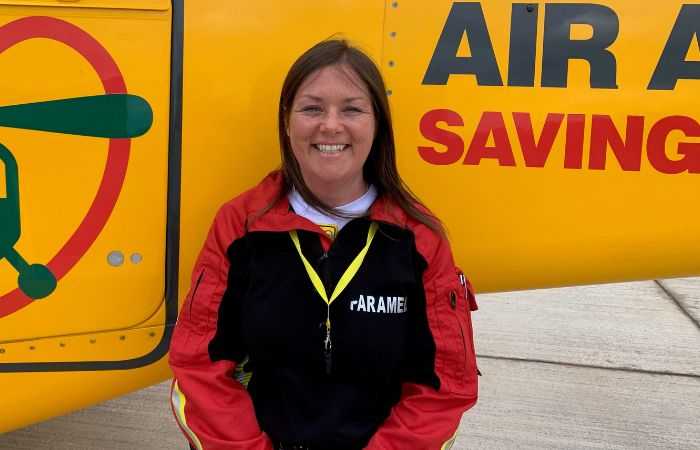 Jenny Mealey
Emeritus HEMS Paramedic
Originally from central Scotland, Jenny moved to the midlands to become a paramedic. Gaining her HEMS qualification in 2008 and continuing to become a Critical Care Paramedic, Jenny is one of our emeritus paramedics.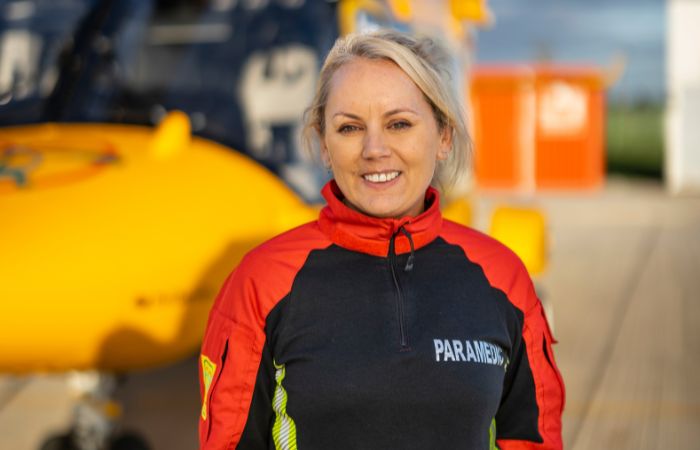 Jemma Varela
Emeritus HEMS Paramedic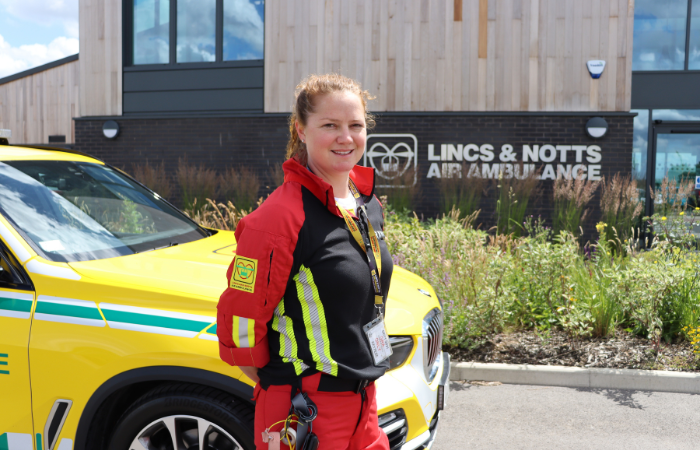 Lou Rosson
HEMS Paramedic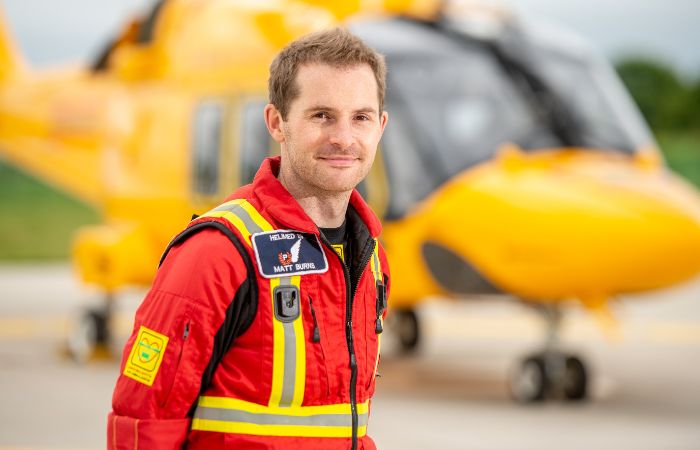 Matt Burns
HEMS Paramedic
Michael Goodwin
HEMS Paramedic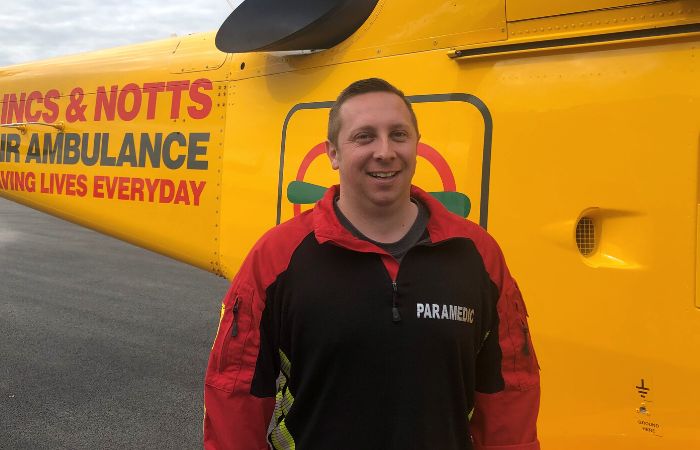 Oliver Robinson
Emeritus HEMS Paramedic
I have been in the ambulance service for over 20years, qualifying as a paramedic in 2007. Since then I have held several different roles including being a member of HART and the cycle response unit. I began working in HEMS in 2013 and have loved every minute of it. I was lucky enough to join LNAA in 2021 and am privileged to work with such an experienced and innovative team.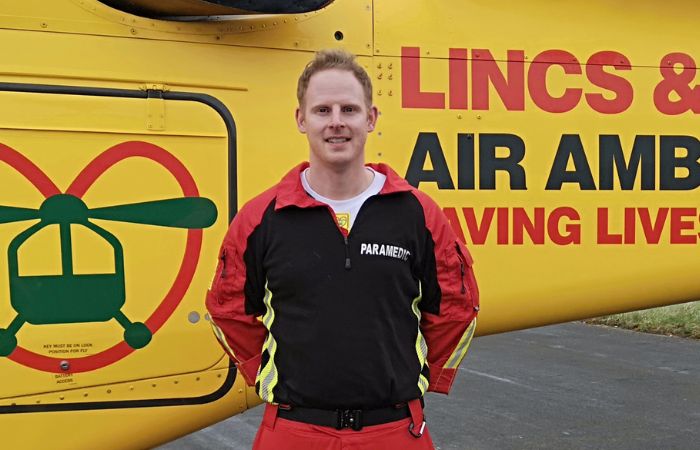 Rob Fillmer
HEMS Paramedic / Clinical Operations Manager
Previously a Royal Marines Commando before changing career to become a paramedic. Rob qualified as a paramedic in 2013 and has worked in various positions across the ambulance service before moving to Lincs & Notts Air Ambulance in 2019. Rob lives down the road in Lincoln and has a passion for riding off road motorbikes, rugby and walking his dog Winston.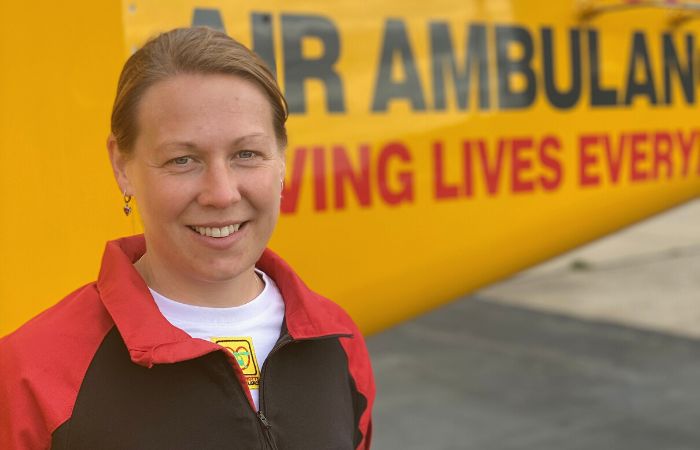 Vanessa Thomas
HEMS Paramedic
I qualified as a Paramedic in 2011 and have spent time working in Yorkshire prior to coming to LNAA.  I volunteer also with Filey Lifeboat Crew in my free time and enjoy travelling.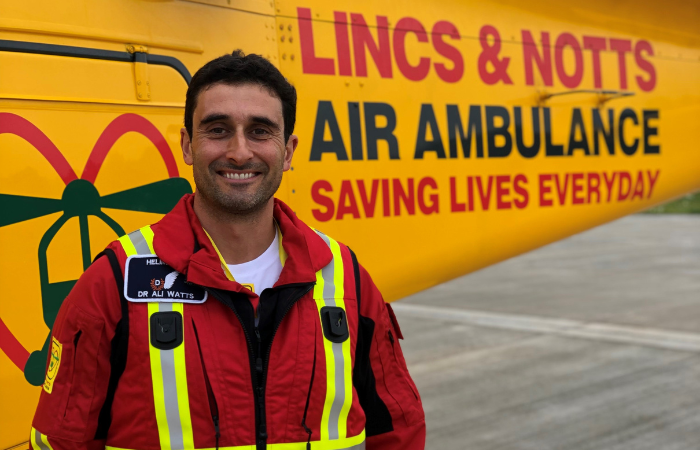 Dr Ali Watts
HEMS Doctor
Ali Watts is a London Major Trauma Centre based Anaesthetist with sub-specialty interests in Trauma, Airway and Regional anaesthesia.  He works inbetween both the pre-hospital world and surgical theatres. With one foot in the UK and the other in Portugal, he seeks downtime through surfing while trying to manage his four children.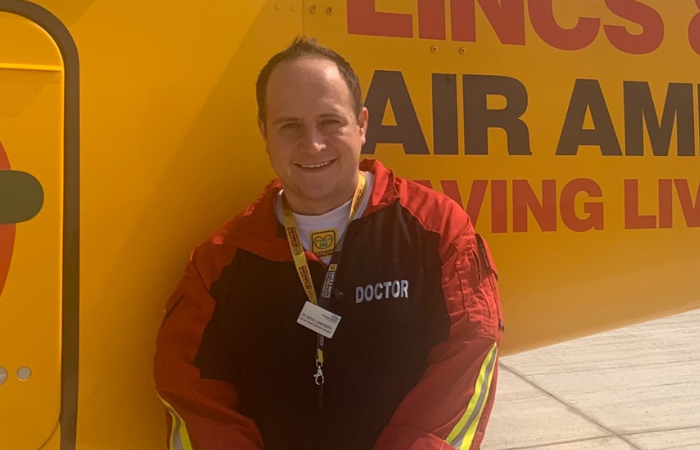 Dr Asher Lewinsohn
HEMS Doctor
Asher is an anaesthetic and intensive care consultant currently working in the NHS at Luton hospital near London. Asher also has a strong interest in Trauma and prehospital care and has flown for various HEMS services in the UK over the last 5 years and been a BASICS volunteer doctor for 8 years. Asher has a strong interest in education and managerial work within prehospital care and as such aside from being a Medical Director and course lead for the Resus council UK, Asher is also a Medical Director for Hatzola Herts Ambulance service volunteer group as well as trainer and clinical advisor for the Edgware group as well. Occasionally Asher even finds the time to also spend a bit of time with his wife and 2 little girls at home as well!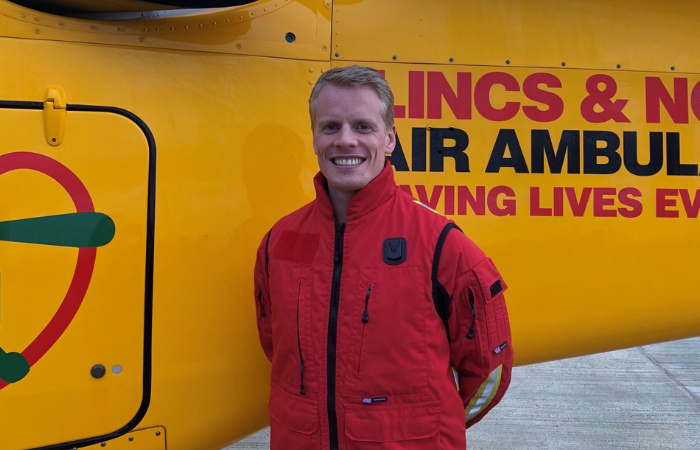 Dr Chris Armstrong
HEMS Doctor
Chris is a Consultant in Emergency Medicine and Major Trauma. He has worked in emergency medicine and pre-hospital emergency medicine in both Australia and the UK and has a particular interest in teaching and team working. Outside of work he enjoys getting out in the hills with his dogs!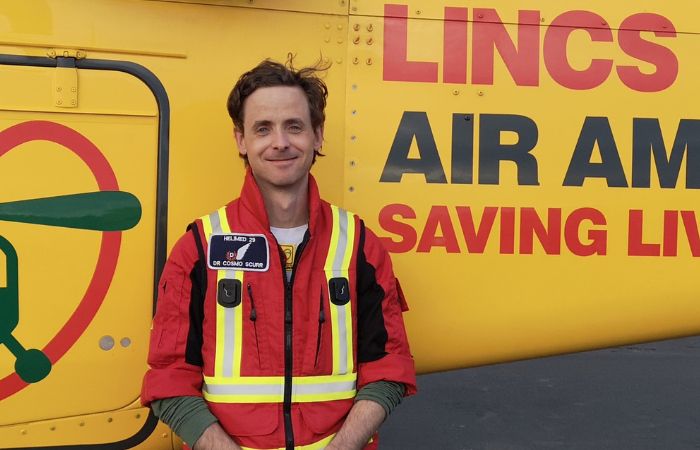 Dr Cosmo Scurr
HEMS Doctor
Cosmo is a consultant in anaesthesia and major trauma, and lives and works in the south east. He has previous experience working for air ambulances around the country, and has been part of our team at LNAAC since 2019.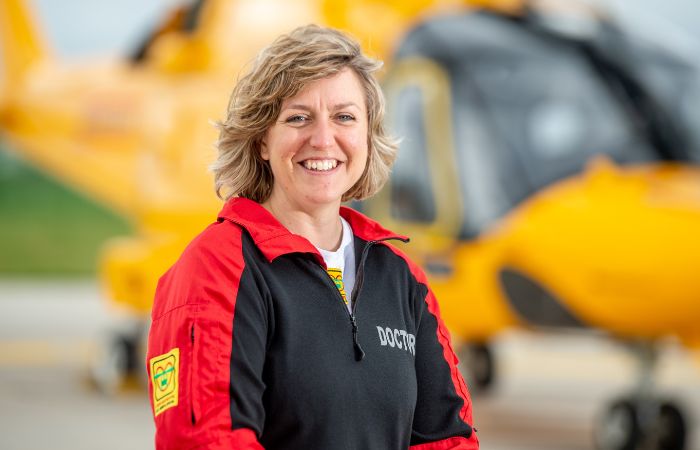 Dr Isla Wormald
HEMS Doctor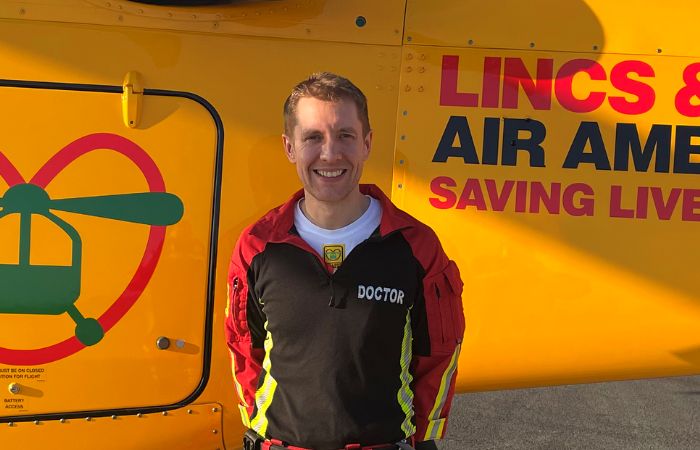 Dr Jake Turner
HEMS Doctor
Jake is originally from Essex, and went to Nottingham Medical School in 2004. Jake is an Anaesthetic and Prehospital Emergency Medicine Consultant at Nottingham University Hospitals NHS Trust.
Jake dual accredited in Anaesthesia and Prehospital Emergency Medicine whilst working for Midlands Air Ambulance and The Air Ambulance Service. Following completion of his training, Jake undertook a 6-month Fellowship with London's Air Ambulance before starting with LNAA in 2021.
Dr Jess Payne
HEMS Doctor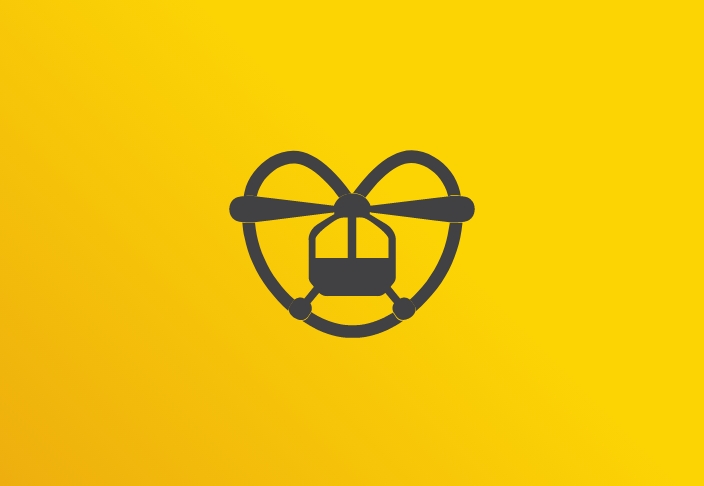 Dr Katja Ruecker
HEMS Doctor
Katja Ruecker is an anaesthesist qualified in Germany but living in the UK since 6 years. She has more than 7 years experience in pre hospital care and retrieval medicine. She is passionate about teaching new doctors and paramedics. Outside work Kat is passionate about diving and hiking as well as cold water swimming.
Dr Mark Forrest
HEMS Doctor
Dr Mark Forrest is a Consultant in Anaesthetics and Critical Care, from Warrington in Cheshire, where he is an NHS Associate Medical Director for Unplanned care. He has over 25 years prehospital experience and is Medical Director for a number of UK Emergency Services.
Mark is widely involved in medical education and is the founder of the ATACC course and all the related courses. He was a consultant in diving and hyperbaric medicine for 5 years and has experience in many types of transfer and retrieval medicine, extrication and tactical medicine.
Outside of work, Mark is married to Dawn and enjoys family time, the gym and cycling or rucking across the fields and hills.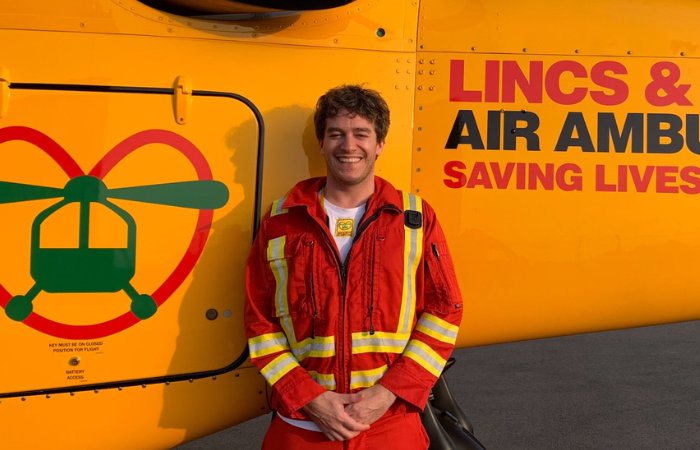 Dr Mark Ruddy
HEMS Doctor
Mark is an Irish doctor with years of prehospital experience working in the UK , Ireland , Australia and New Zealand . Married with a baby girl and sheepdog , in his spare time he can be found in the mountains or the sea.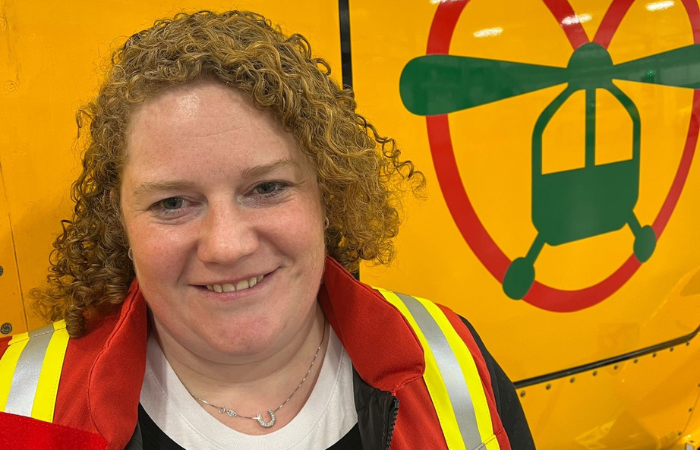 Dr Nicola Wallace-King
HEMS Doctor
Nikki Wallace-King has worked as part of a HEMS team for 4 years and also works in the Emergency Department. She has a specialist interest in equestrian trauma and spends her spare time trying not to fall off her own horses!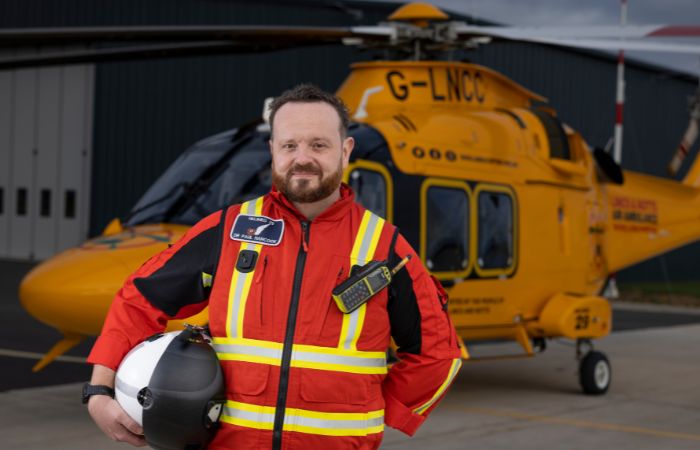 Dr Paul Hancock
HEMS Doctor / Nottingham Critical Care Lead
I work at the Royal Stoke as both an Emergency Medicine Consultant & a Major Trauma Consultant. I started prehospital work on the Isle of Man covering the motorcycle road racing events, the TT, the Southern 100 & the Manx Grand Prix, which I continue to work on. From this starting point I moved over to HEMS at LNAA, where I continue to work.
Outside of work I can normally be found with either my motorcycle or my dogs.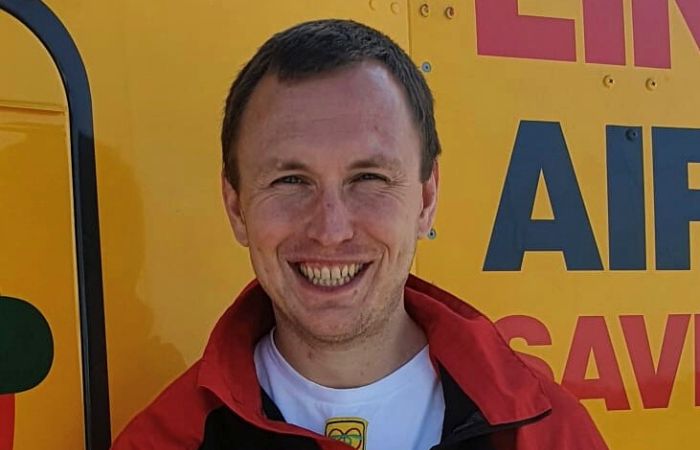 Dr Richard Bayliss
HEMS Doctor
Rich was brought up in Nottingham so working for LNAA feels like a return to his roots. His other work is in Anaesthetics and Intensive Care Medicine in Yorkshire. In his time off he enjoys cycling through either Wharfedale or his kitchen, depending on the weather.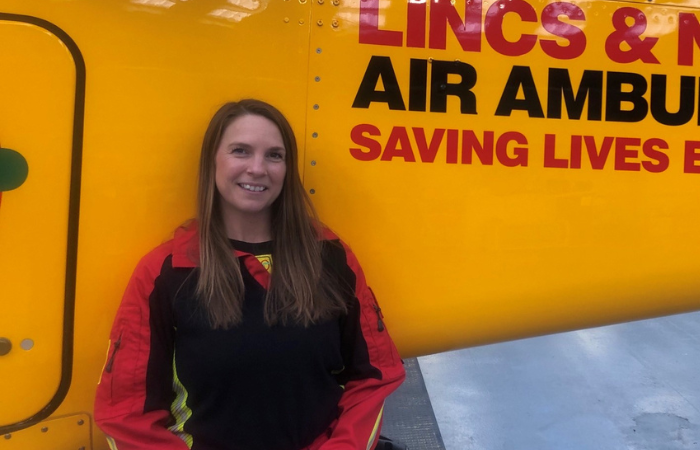 Dr Sarah Goff
HEMS Doctor
Consultant in Emergency Medicine in MTC in Cardiff, with over a decades experience in sports and event medicine along side prehospital and critical care medicine. Enjoys exploring beaches….. especially ones with warm weather!!
Dr Toby Edmunds
HEMS Doctor
I am an Emergency Medicine, Intensive Care and Pre-Hospital Emergency Medicine Consultant, I work at Peterborough City Hospital as well as LNAA. I have a particular interest in advance resuscitation techniques and ultrasound. I love my job but I also love being out and about mountain biking, windsurfing and playing rugby.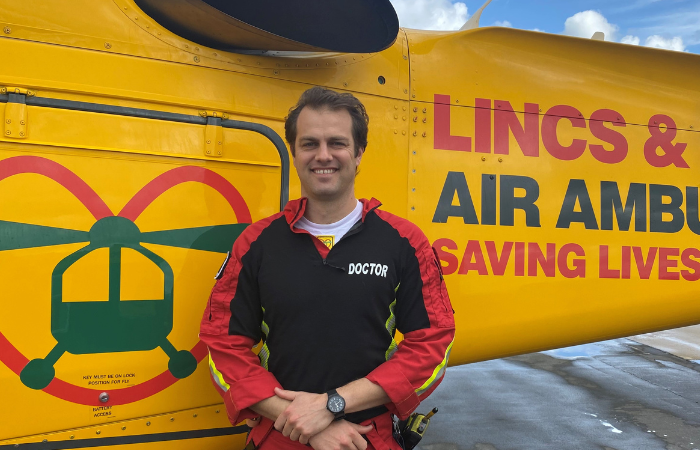 Dr Will Charlton
HEMS Doctor
After graduating from the University of Nottingham Medical school in 2006, Will has worked as a doctor both within the NHS and as a GP, with extensive periods working overseas in remote or difficult locations.
He has been involved in emergency pre-hospital care since 2009, and started flying with Lincs & Notts Air Ambulance in early 2020 while continuing to work with another HEMS service in the South East.
It remains a privilege to be able to help the people of Lincolnshire, Nottinghamshire and the surrounding region when they are having some of their worst days.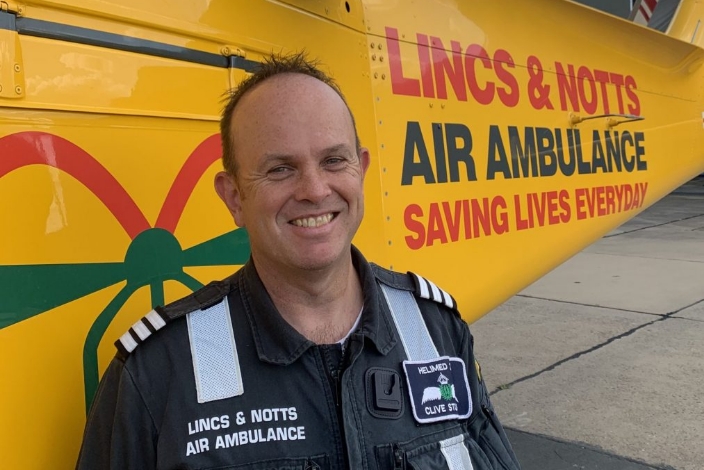 Clive Sturdy
Pilot
Following a successful career in the Royal Navy, Clive embarked on his helicopter career as a Flying Instructor initially teaching Algerians to fly for the Police, Gendarmerie and Civil Protection. After two years of teaching, he took a sabbatical and cycled around the world for three years, visiting 33 countries and totalling over 18,000 miles. On his return, he resumed his career teaching private helicopter students before passing his Instrument Rating and joining LNAA in 2019.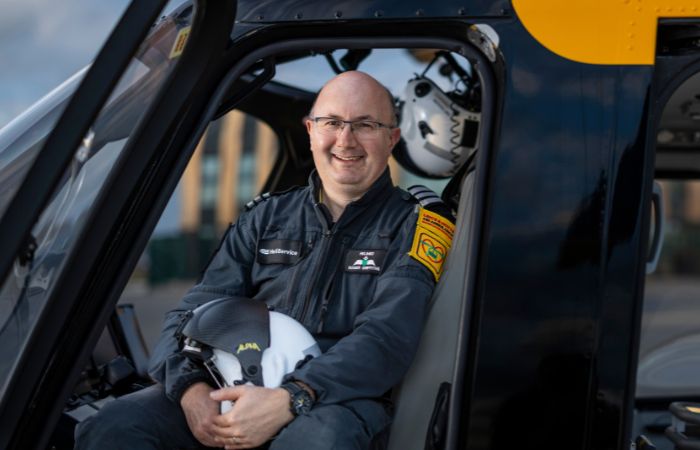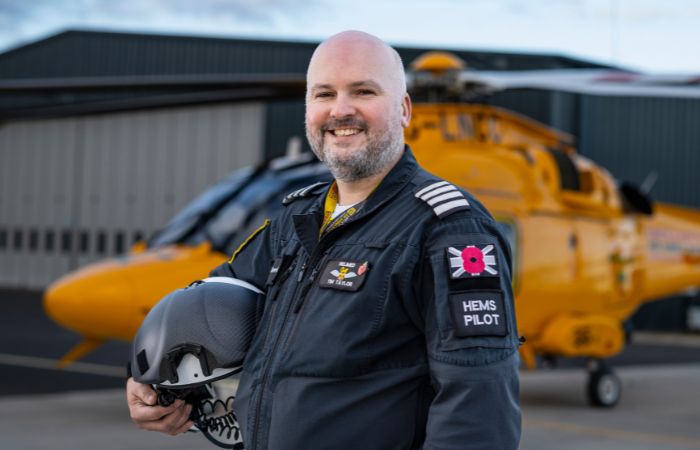 Explore More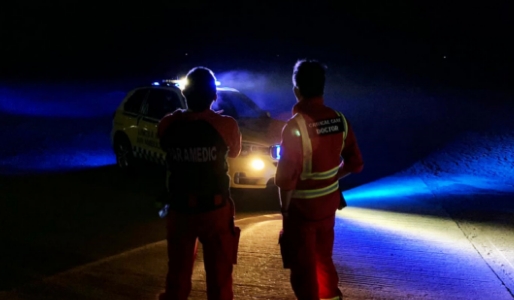 Our team
Every one of these individuals is integral to the work that we do – giving patients their best possible chance of survival and recovery from some of the most devastating injuries and illnesses.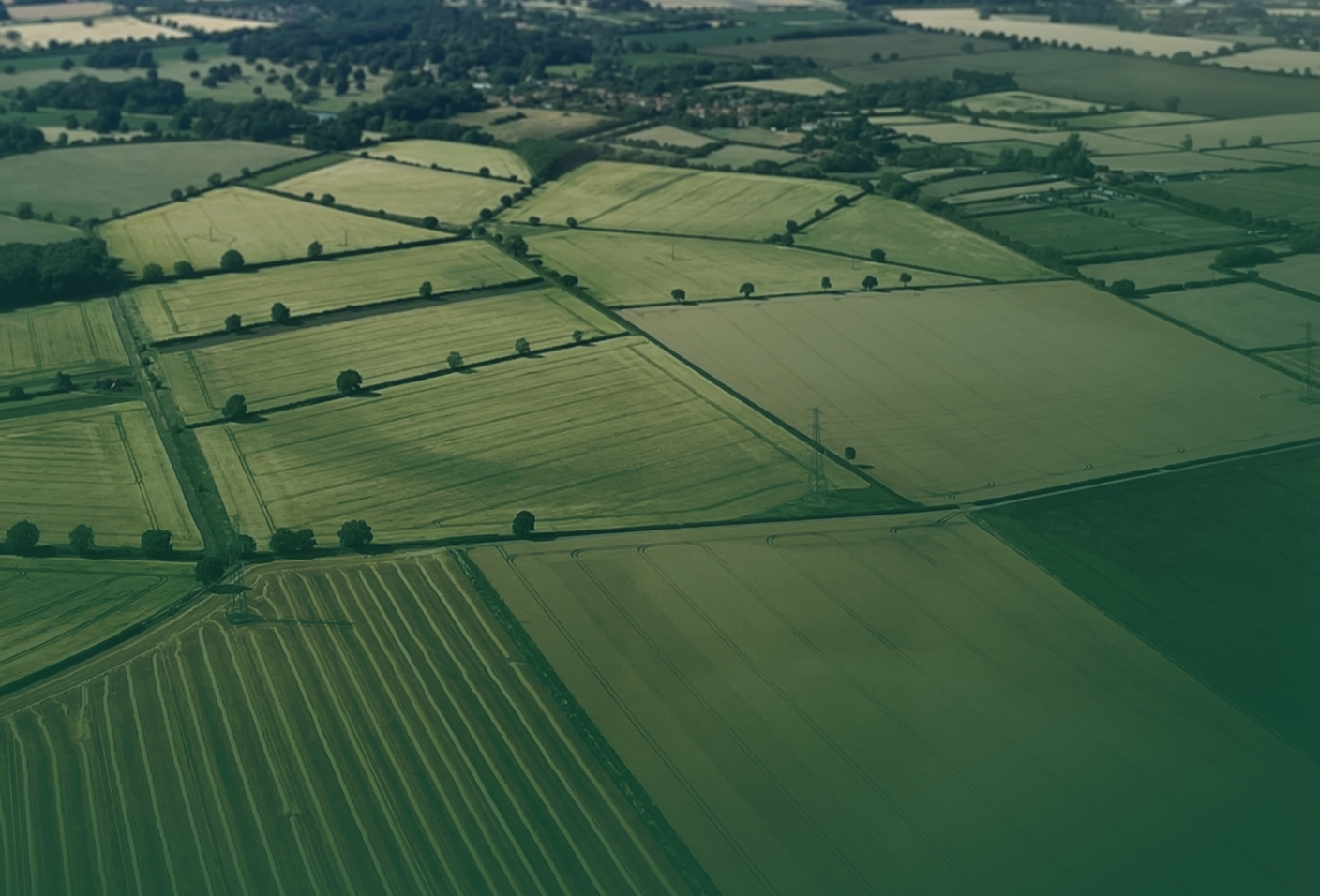 Our missions
We are a growing Charity in Lincs & Notts with exciting opportunities often available in both our clinical team and our charity staff.