Skip to content
Rotors and Wings Lunch raises £75,000 for LNAA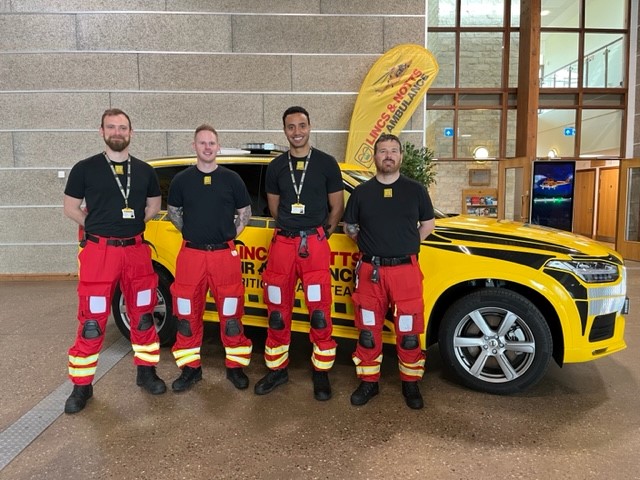 Rotors and Wings Lunch raises £75,000 for LNAA
The Lincolnshire Air Ambulance County Appeal (LAACA) Lunch and Auction of Pledges has raised over £75,000 for the Lincs & Notts Air Ambulance (LNAA).
A dazzling fly past by a Spitfire and Mustang from The Rolls-Royce Heritage Flight accompanied by the sound of the RAF Waddington Pipes & Drums started the proceedings at this prestigious event held at the Lincolnshire Showground. The LNAA helicopter and critical care car also appeared and guests were given an opportunity to engage with the crew members, ask questions and see firsthand where their donations are being invested.
LAACA Chair Andrew Pearce said: "We are so proud that the 2023 "Rotors and Wings" Lunch has raised such vital funds to support the life-saving work that Lincs & Notts Air Ambulance provides to the communities of Lincolnshire and Nottinghamshire. With each mission now costing around £4,000 and with an average of 4 emergency call outs every day every penny raised really counts. And once all the pledges are received, we expect the final amount to reach in excess of £88,000."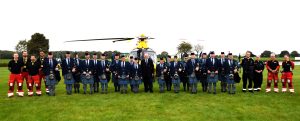 400 guests attended and listened spellbound to former patient, Mark Jones as he gave a very moving account of his own story before host and compere Andy Larmouth entertained the guests with a magic trick or two and then  local auctioneer George Sanderson started the auctions, inviting guests to bid on a whole array of once in a lifetime adventures and experiences – from art to aviation, racing to catering, there was something for everyone.
LNAA's CEO, Karen Jobling expressed her thanks for their wonderful support. She said: "As one of the leading Helicopter Emergency Medical Service charities in the UK, we constantly challenge ourselves to deliver the very highest level of pre-hospital critical care to our patients.  This year we need to raise £10million to operate 24 hours a day, seven days a week.  We receive no direct funding from the Government, instead we rely on the wonderful generosity of individuals and groups like the LAACA committee to help fund our work and enable us to continue to be by the side of patients, day and night."
LAACA was formed in 2018 with a goal to raise up to £40,000 a year to help support the life-saving work of the Lincs and Notts Air Ambulance. It evolved at a crucial time when additional funding was required to extend the emergency medical service to a 24/7 basis.
The 2023 "Rotors and Wings" Gala Lunch is the third fundraising event that LAACA has staged over the last 5 years, the first Lunch in 2018 raised £95,000, followed by a Christmas Auction in 2020 which raised £86,000.
Andrew summed up the day and said: "Events of this magnitude don't just happen, they take years of planning to ensure that everything runs smoothly on the day. I can honestly say that it's been a dream to have worked with a group of fantastic committee members from all four corners of Lincolnshire including Penny Would (LAACA Co-founder), Patrick and Toni Salmon, Duncan and Sarah Worth, Alice Gray, Sally Strawson, Rosie Theaker, Emma Would, Amy Simes, Emma Hawthorne, Emma Caudwell, Catherine Pearce ,Georgia Watson and Jamey Burtt (auction expert).